Check Out Our Range Of Dive Torches
Choosing a dive light can be a little complicated considering the choice of dive torches available on the market today. Depending on your use there are several different types of dive torches available that can be specific to task but all will give you some level of light depending on what you are trying to achieve. In the past 10 years there has been a massive jump forward in lighting technology in the lighting industry with the introduction of led's replacing old style incandescent bulbs. This has changed the types of dive torches available on the market making them much brighter in output and also much more efficient. Below are some tips and info on helping to choose the correct type or torch for your specific industry or use. All our dive torches sold through www.ledtorchshop.com.au are backed by full manufacturer warranty and we encourage our clients to call or email if any further information is needed in choosing the correct torch.
Dive Torches for Emergencies when diving in clear blue water you may not expect to need a torch but occasionally you may find yourself in a situation where you find something that needs more light or things could change light wise. This is why it is good to carry a small lightweight powerful dive torch that is easy to access and not cumbersome. A few good choices for this application are the Himax X13 or Himax X5. Both torches come fully rechargeable and are 1000 lumens + and super compact at around 6 inches or 150mm in length. Also these torches weigh under 200 grams so will not be too heavy. If you are doing a little more than just recreational diving you should always carry some sort of torch even if you rarely use it you will be extremely glad you have it when you need it.
Dive Torches For Cave Diving When cave diving things can go very dark and most cave divers will not only carry a main dive torch but will also carry a small back up torch for emergencies. Cave diving can be very dangerous and lighting is a must have addition to what you carry. A few dive torches that are ideal for cave diving are the Himax X7 at 3000 lumens or the Himax H16 at 4300 lumens. Both these torches have multiple outputs so can be turned down in output to extend runtime. For back up torches for cave diving the Himax X13 or Himax X5 are a great choice. Cave diving has become a huge sport for divers world wide and all cave divers have a standard list of must have emergency items they carry and a torch is usually at the top of this list.
Dive Torches For Murky Water This is the same as cave diving. If you want something small and light the x13 or x5 but if you need those super penetration high output beams go for the Himax X7 Or H16.
Dive Torches for Photography When shooting film under water standard dive torches will work to give your subject some extra light but if you need an even beam pattern for professional photos or video there are a few lights specifically designed for this purpose. These lights are designed with shallow wide spreading reflectors and are great for attaching to cameras. The Himax X8 Photography light or Himax V16 Photography light are an ideal solution for photographers or hoppy divers taking video or photos.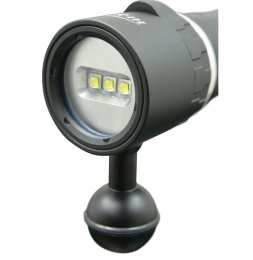 Dive Torches For Under Water Work Diving torches are a major requirement for people working under water. If you are an under water maintenance crew or construction or in inspection the value of a good reliable dive torch can not be overstated. Rechargeable is a must and having spare rechargeable batteries is a good idea so you don't have to wait for batteries to recharge in between dives. Most companies employing divers for underwater work supply good quality reliable and durable torches. If you are not supplied one ensure you have one in your kit bag.
Rechargeable Vs Non Rechargeable. When choosing a dive torch you will need to decide if you want the light to be rechargeable or not. Most of our high output dive torches are now rechargeable and there are several reasons for this. One is rechargeable torches are much cheaper to run long term as the batteries can be recharged several hundred times so if you are a medium to heavy user you will be glad you choose rechargeable. Another reason is with the new generation of led torches the outputs achieved can be much higher with rechargeable batteries as opposed to using AA or AAA disposable batteries. There may be some instances where you want or need AA powered dived torches and in this case the Led Lenser D14 Or Himax X11 are a good choice for this.
Recreational Diving Diving for fun is one of the most enjoyable sports out there. Depending on what part of the globe you reside in or where you go diving the environment can vary greatly. Whether you are diving in ship wrecks or in coral looking at fish and bottom dwelling species torches are great to light up what you are looking at. Again the torch you choose will depend on the weight you want to carry versus the power output. We generally recommend  smaller lighter torches that can easily be carried in your vest and are easy to access.