Sale!
Smith's Diamond Benchstone Coarse – 15cm / 6″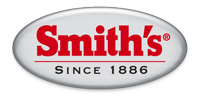 or 4 payments of $17.49 with
This Diamond Bench stone offers the ultimate in sharpening technology. It features multiple layers of micro-sized moncryystalline diamonds banded in nickel to a flat metal surface. The unique overlapping oval hole design speeds sharpening by collecting and holding the metal filings which ordinarily build up during the sharpening process. This allows the sharpening surface to remain clean and clear and speeds sharpening.
In stock
httpv://www.youtube.com/watch?v=5" src="//www.youtube.com/embed/kJ3pLRkTLCM" frameborder="0" allowfullscreen>